Dear friends,
Just a couple of weeks ago, the GOL team sat down to plan and 'finalize' our 2010 Valentine's Event. It was going 'according to plan' …, until we heard of what's happened to the people of Haiti.
As we're sure you've all heard, a massive earthquake struck Haiti on January 12th (not to mention the almost-equally-as-powerful aftershock quake following the first one). According to the Haitian authorities, an estimate of 200,000 people may have died in the quake, which left MILLIONS MORE hurt or homeless and desperately in need of medical assistance, food, and water.
As we tried to digest this horrible tragedy, we can't help but wonder: is there anything we can do to help? Obviously the Haitian people are urgently in need of prayers, miracles, and lots and lots of money to survive and deal with the aftermath. But, honestly, where should we even begin?
That's when we decided to reach out to our friends – YOU.
While doing it alone might make little impact, we believe that TOGETHER we'll make a BIG difference. We can give a special LOVE gift for them just in time for Valentine's Day: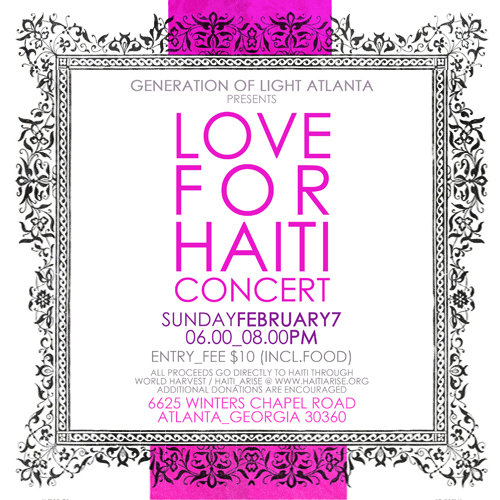 "LOVE Concert for Haiti"
Sunday, Feb 7th, 2010 from 6 – 8 p.m.
@IFGF GISI Atlanta Sanctuary
Sure, this is not your typical Valentine's event – but it certainly is our chance to share & give LOVE. Let's dedicate Feb. 7th as the night when the youth/young adults in Atlanta come together to support, LOVE, donate, and sing our hearts out for our Haitian friends.
The entry fee is $10, including dinner, but we do encourage additional donations. ALL PROCEEDS WILL GO DIRECTLY TO HAITI through WORLD HARVEST/HAITI ARISE (www.haitiarise.org).
Please come and enjoy relaxing fellowship, delish food, and great music by some of our very talented friends:
– IGCA YUFF
– HIKER by Bethany Atlanta
– Andre Laksmana
– and more … (complete list of performers is coming up soon!)
We are excited to seeing you and your friends/sweetheart at the concert… Happy (early) Valentine's Day to you!
Love,
Generation of Light (GOL) Atlanta
Matthew 25:45 –
The King will reply, 'I tell you the truth, whatever you did for one of the least of these brothers of mine, you did for me.'